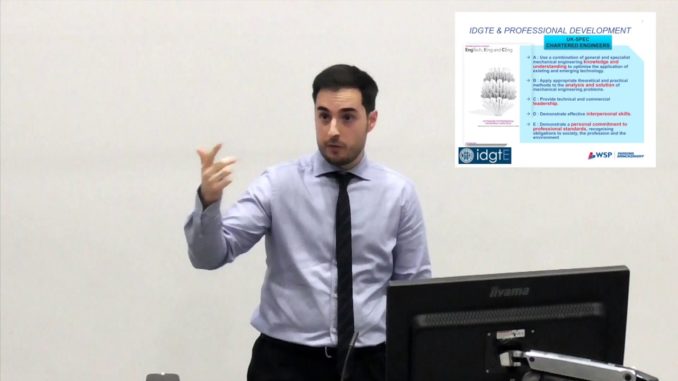 Recorded at CHAIN:17
IPowerE
Engineering Your Career in Consultancy
Ignacio Garcia
Ignacio will discuss the professional development opportunities he has had during his early career that include working on site, travelling overseas and exposure to international projects with several levels of responsibility. Moreover, he will introduce the Institution of Diesel and Gas Turbine Engineers, his role and how they promote knowledge sharing activities in the energy sector.
Ignacio works as a Development Engineer in the Energy business at WSP | Parsons Brinckerhoff and has experience in the development of power projects including gas turbines, CCGT and conventional thermal power plants. He has carried out performance modelling for many projects using GT Pro, GT Master, Steam Pro, Steam Master and Ebsilon Professional software.
As a Development Engineer Ignacio has participated in pre-feasibility and feasibility studies, preparation of technical specifications and analysis of plant performance. Moreover he also has site experience with placements at two CCGTs under construction giving technical support to the Owner and carrying out technical inspections.
In addition, Ignacio has acted as an Independent Engineer and has performed several verification works such as construction monitoring ensuring that they are consistent with the EPC Contract and the funds are made.
Video kindly recorded by the IET Greater Manchester Young Professionals