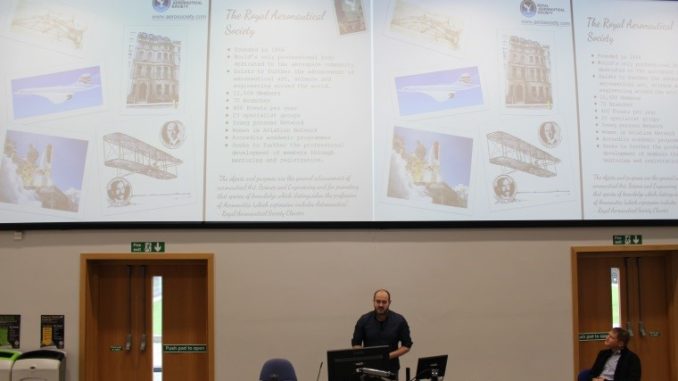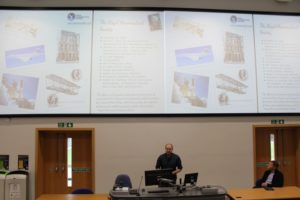 In February 2016 I became involved with my local RAeS Branch, Manchester, for the first time. This involvement was in the form of volunteering some time one Saturday to man a RAeS stand and an event called CHAIN…This year I and Richard Martin had the pleasure of presenting as members of the Manchester Branch, and representatives of the Young Persons Network.
Chain 2017 was an initiative that brought together the young member volunteers of numerous professional institutions and engineering organisations such as the Institution of Mechanical Engineers (IMechE), Institution of Engineering and Technology (IET), Manchester Association of Engineers (MAE) and the Royal Aeronautical Society (RAeS).
The aim was to host a conference to inform and inspire developing engineers from across Greater Manchester. The event was open to many, from students and apprentices through to graduates and those aiming to gain professional registration with one of the multitude of professional engineering bodies.
Throughout my time studying at university, I often heard about many career related presentations and networking sessions going on throughout the academic year, including departmental careers days. However, I believe as young engineers, many of us volunteering believed this was an event seldom seen in our times at university. An event so heavily influenced by young working engineers, those whom students are most likely to be relatable to at their career stages.
It was for this reason that I and Richard were so keen to get involved and present at CHAIN this year, talking about our respective careers, from two entirely different sides of the Aerospace Industry. I myself work for BAE Systems in very much a technical engineering role, having spent two years rotating through different placements on their graduate development framework. Richard on the other hand, provided the perspective of someone slightly further down their career than I. He has a wealth of experience in the aircraft maintenance side of the industry, having worked with companies such as GE, Eastern Airways, and Thomas Cook Group. As I am only too clear about… this is a whole different world in itself, and really compliments the vast wealth of opportunity within aerospace which perhaps flies under the radar on occasion.
The organisers of the event described CHAIN as being "the only place where you'll hear so many engineering organisations speaking for young engineers. Here you can learn more about the many disciplines that make up engineering and the organisations that champion it in your local area". Having attended the event in 2016 and 2017, I think the event is a truly remarkable show of what engineering – regardless of discipline or institution – can offer to young people. Especially being championed by volunteers, and hosted in Manchester, a city with so much engineering Heritage, I certainly look forward to future events.
Article by Gary Backman